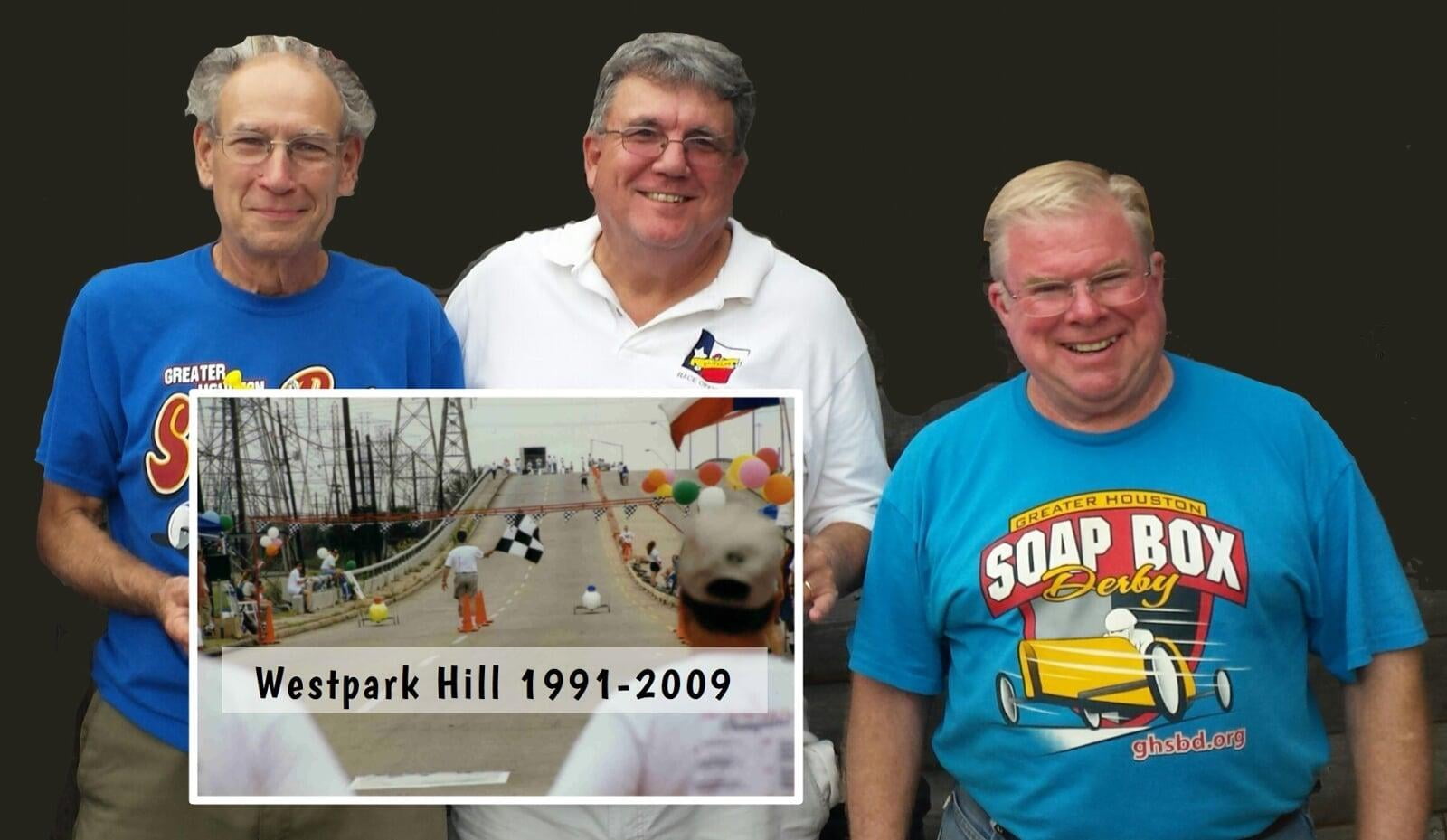 Mission Statement - Chartered in 1994, Greater Houston Soap Box Derby (GHSBD) is an all-volunteer, 501(c)(3) non-profit, Texas corporation organized for charitable and educational purposes. We are dedicated to having a race program that is safe, fun, fair, professionally run, and that reaches out to all Houston area families.

The Early Days - Current board members Byron, Rick and Harry (in photo) were part of the original group that organized the GHSBD back in the early '90s. The only hill available in Houston in those days was a railroad overpass on Westpark Drive just inside the loop. GHSBD held three races (2 NDR rallies + AASBD local) each year plus added Super Kids races in the later years.

Hockley Derby Park - GHSBD assisted Harris County Pct. 3 with the planning and design phases of the hill. Since moving to the derby park in 2010, GHSBD has been able to expand our events to include races for special needs children, family fun days, driver training, practice days and more. GHSBD volunteers maintain a variety of derby cars provided by the county and donors for use at all our events.
NOTE: As of 2022, the Hockley Derby Park is now part of Harris County Pct. 4.
Harris County Precinct Four

Hockley Derby Park Management
Co-Sponsor of Public Fun Days & Super Kids

Corporate Sponsors:

Texas Top Gun Series & Super Kids
Officers / Board Members:

Rick Higginbotham - President

Ken Bryant - Vice President

Mary Griffin - Treasurer

Harry Harwood - Corresponding Secretary

Byron Gumienny

Greg Kerr

Megan Loh
Advisory Directors:

Bob Fenimore

Katye Miller -

McGinnis

Kathy Higginbotham

John Bray

Chris Higginbotham

Ken Cline
Honorary Grand Marshal

Student Volunteer Coordinator:

Megan Loh